My Story
Profitability Strategy Expert
How long have I been doing what I do, and how did I become a Profit Strategist?
Entrepreneurship has always been in my blood – by age 21 I was a Certified Esthetician and within 6 months of graduating, had opened my own salon. Young and naïve, I thought I would save money by going to school at night to learn how to manage my financials. In hindsight, that served me well because my clients learned of my additional credentials and I started to develop a "side-gig" as a bookkeeper.
Never did I think that I could turn my part-time bookkeeping gig, run from a corner in my living room, into a successful business helping Entrepreneurs. This thought never crossed my mind until it had to. I was in an extremely unhealthy marriage with someone who devalued me and my contributions. Our home was a toxic environment that seemed inescapable – my part-time bookkeeping gig wasn't going to support me and 3 kids. I had to make a plan and get out.
It was in this moment that I had never been so grateful that I was once a broke twenty-one year-old too picky and frugal to let anyone else handle my financials. With what I knew under my belt, I took more courses and programs and invested time in myself. I built up my client roster and was working beyond my own capacity. I was on overload and was making money – I could do this!
Then he lost his job and everything I brought in now became his spending pot. There was no thought about tax reserves or operating expenses, he just spent what came in. Needless to say, the debt was mounting. My spirits were shattered – how the hell was I going to get out of this?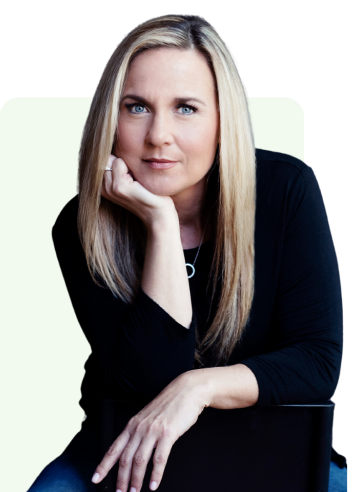 I was on the hunt for everything I needed to create something amazing out of nothing. This was going to be my lifeline and my freedom, so it was time to kick it into full gear.
For me, strength came through pain and determination and not just the want, but the need to be financially stable by my own means. When it became imperative that I get my children out of this unhealthy environment, I had no choice but to build what I could with the skills that I had. I learned how to systematize my practice so I could grow it into a business. I learned how to manage cash-flow so I operated within my means, had money to pay taxes and also pay myself.
After years of planning and exhaustion, I had finally generated a steady income that was the bottom line of my freedom. In 2016 I proved to myself that not only could I remove myself from a foul 11-year relationship, but I could push the limits that I thought were unobtainable. Since then, I have learned that the sky is not the limit; you are in fact, limitless.
I've gone on to take that knowledge I acquired in my own strategy and apply it to other businesses. Studying the Profit First cash flow methodology, I became a Certified Mastery Profit First Professional and my mission is to empower all business owners around their finances. My experiences have made me an expert in helping Entrepreneurs become profitable – and on top of that, I work with countless bookkeepers and accountants who want to do the same.
I've worked with many private clients and have been a guest speaker on many webinars and podcasts. I lived my dream of having my business run constantly with a positive cash flow, taxes paid on time, every time and a hefty take-home pay. The actual technical stuff in the business (the bookkeeping) runs without me – PROFITABLY; and I have created Accelerate 2 Advisor™: An intensive mastermind program to help you fully understand and put into action the process of transitioning from compliance & overwhelm into high-value advisory.
Ron Saharyan,
Co-founder & Managing Director Profit First Professionals
"Lisa is such a gift to our community. She is an inspiration and invaluable mentor to our community of bookkeeping business owners"
"Lisa is both passionate and caring which is why she actively looks for ways to share the lessons she's learned to help others succeed. I've always found her energy for life and success contagious so take some time to listen and learn"
Frequently Asked Questions
What Makes You Different From Other Success Mentors?
Although we will occasionally touch upon time management and other "business coach-y" things, you have me as a transitioning from technician to strategist expert and consultant. I've done it myself! I'll take you from point A to point B in the quickest, most direct way possible.
I work on the inner and outer principals for success and look at your business and your results from an organic and leveraging perspective. What that means to you is that you get a wise-sage-meets-kick-butt authentic systems and processes coach. I'll show you how to leverage all the changes in the industry to make your earnings limitless and step up your game to serve your clients in the most valued capacity.
I'm also very "to the point" and I don't pretend to hide it either. Because I'm not delicate, you'll always get a straight to the point quick and honest response from me. I'm concerned with how to get you positioned as an advisor, in whatever form you choose that to be, but you have to get out of that technician role first!
You may not like what I have to tell you – but you can be sure I will always tell you the truth. The truth about what's standing in the way of your success and how to get rid of it FAST so you can start getting results in record time (and I throw in a healthy dose of WTF moments and inspiration, which always helps!).
What Type Of Personality Do You Work Best With & What Is Expected Of Me?
The Accelerate 2 Advisor™ programs were created for people who are absolutely excited and dead serious about getting out of that role as a technician in their business and serving their clients in a higher capacity. You know you have so much more to offer! This means not running around all day long, beating yourself up anymore saying: "I just don't have time, I'm already way too busy."
The programs were created to get you out of working "in your business" as a technician, which will eventually lead you to a position of overseeing your company & not actually doing all the work yourself! This frees you up to go on to becoming more – I chose to become a Profit Strategist, helping my clients understand their numbers and getting a firm handle on their cash flow and profitability. You can specialize in whatever you choose – the point is, you MUST specialize in something! Take what you've experienced with all of your clients and turn it into something useful!
Business owners today don't want to know about what happened last month, they want to know how to make the upcoming months profitable. Guess what? Your company has the books down pat so you can now use those numbers to provide a valuable service to your clients. What does that mean for you? More money, more freedom, and an unbelievable feeling of reward – you're actually helping people!
Being a chronic "fixer" and "get stuff done" person myself, I'm known to work best with others of the same mindset. People who are committed to their success no matter what, who are super-ready to get going and just want to know exactly what steps to take to transition. My clients often tell me – "just tell me what to do and I'll do it!"
Consider what you'll do with me to be a high-octane crash course on everything you need to know to stop being a technician in your business. You will be expected to take serious and consistent action. No excuses anymore, just a very different way of thinking and full support while you achieve this incredibly exciting goal: Transition out of compliance and overwhelm and into high-value advisory!
For What Type Of Professionals Are Your Programs NOT Going Go Work?
Please know I'm very selective in who I work with and I cherry-pick my clients, choosing to (gently) turn away people who aren't suited for my programs and won't get the results for which they would have signed up for. (It wouldn't be fair to them.)
The Accelerate 2 Advisor™ programs are NOT for those bookkeepers or accountants who are just starting out. You need to have that tacit knowledge of how the books work, the pains business owners have, how the output of your entries affect the overall financials and how stressful managing all those deadlines can be. Have you ever laid awake at night panicking that you missed something for a client? Holy crap! If you don't have this experience, it's absolutely OK. We all started out somewhere. Once you get your feet wet, if you're good at what you do, you'll be in this position in no time. Do yourself 2 favors:
1. Get your client roster full. Work with a full roster for at least a year or two and maintain consistent revenue levels of at least $75K/year – you'll see first-hand how valuable this program will be to you when you never have any free time and the stress keeps mounting.
2. Make a point to get any and all certifications available to you and stay on top of the required learning credits. You have to stay up-to-date on what's going on in the industry.
Doing these two things will really help you get primed for our work. When you're ready, contact me and we'll get you started. (I'm in no rush and will be here when you need me).
Other types of personalities I won't work with (without exception) are the whiner or the chronic skeptic, as well as individuals who consistently make excuses for not getting their assignments done or challenging every aspect of the program. If you are one of these people, I gently and respectfully ask that you not call and I hope you understand why. We'll probably just not work well together and I wouldn't want you to waste your time or money. Is that fair?
What Exactly Is The Accelerate 2 Advisor™ Program & What Does It Include?
Accelerate 2 Advisor™ program starts with understanding your true value, where your power really comes from, how to manifest what you want (including more money & freedom), creating powerful intentions & actions that get you results as well as the outer pieces to powerfully get the word out about your business. Here's what the program gets you to do:
Accountability: This is not a bunch of slides and go figure it out! We meet live every week via Zoom for coaching, accountability & learning. We also have a private Facebook group only for those going through the mastermind intensive program for further support, collaboration and feedback.

Clarify: We examine where you are in your business – do you want to stay a technician in your business or do you want to up your game and level-up, offering high-end and in-demand services? We look at why you MUST leverage the always-evolving technology so you don't fall behind, rather, move ahead of the rest in this industry.

Develop Systems & Processes: We'll implement proven systems to make sure your team is doing everything EXACTLY the way you do it while ensuring best-practices are always in place. You'll LOVE this!

Examine & Improve Fee Structure: I'll show you how to get out of an hourly billing model, create value-based offers and get paid what you're worth. No more competing on price!

Automation & Workflow: Put your processes on auto-pilot – know who's doing what & when. Never miss a deadline – forget spreadsheets and sticky notes! Always know what's coming up, what's falling behind and what's due right now. Your entire business processes & status, accessed from anywhere (um…the beach? Yes!).

Hiring Great People: Now that you have everything in place you can begin to hire out. Where to start, what to look for, how to test and how to onboard. They're now going to do what you USED to do!

Delegate: Here comes the magic! How to delegate and build your team so that you can focus on the high-end needs of the client. This is where you're really going to see the work you've put in pay off.

Differentiate: You now have a business that does not depend on you doing all the work. Now what? You'll be amazed at how much time you have to design, learn and set yourself apart from other firms…unlimited earning potential!

Celebrate: What you do from here is up to you. The next chapter in your journey has started – what do you want to do with what you've created? Build out a massive enterprise? Niche specialization? Strategic specialist? Create an exit plan or retirement revenue stream? The choice is yours and trust me, it's only limited to what lights your fire and how far you want to go!
What Results Can I Expect?
Work smarter at building your business, not harder

Create new standards for yourself

Get crystal clear on who your ideal clients are who will gladly pay you what your worth to help them solve their problems

Leverage your business so you can focus on key money-makers in less time

Create new goals for your business to keep pulling yourself into your future as opposed to pushing so hard

Stay accountable to these goals and achieve them

Get proven techniques you can apply right away to not have to reinvent the wheel on your own

Receive specific tools & templates for you to use

Learn time saving techniques that will dramatically cut down your learning curve

Make more money than you're making now, while enjoying being in business for yourself far more than you're enjoying it now

Implement systems so you consistently fulfill your contracted services easily and can finally stop struggling to stay afloat, for good.
How Quickly Can I Expect Results?
That depends on how quickly you can make those inner shifts. Some clients are ready to go all in and transition out of being a technician in a very short time frame, sometimes even a couple of months while others have a bit more work to do first. It also depends on how dedicated you are to making these shifts; remember "short term pain for long term gain" – yes, it's work but it's work that in the end frees you up.
How Can I Guarantee Myself That I Will Stop Working "In" My Business, In Record Time?
Do all of your homework. Be totally committed to your success. Understand that this is a process, a proven one, that works if you take action and implement all of the steps. If you diligently apply every step of the Accelerate 2 Advisor™ program you will successfully transition out of the technician role, in much less time than you would on your own (trust me, it took me forever to find my way!)
Lisa, Based On everything I've Read & Heard About You, I Know You're The One I Want To Learn From. What Are My Options For Getting Started With You?
Congratulations on making a decision for success! I'm happy to work with you to achieve your business goals.
There are 2 ways to work with me. Privately, one-on-one, or an in-depth one-year mastermind group program with lots of guidance and accountability.
OK, I'm Ready To Do This For Myself, But I Have A Couple Of Additional Questions. Can I Call You?
Good, sounds like you're ready to be pulled into your future! Yes, if you have a couple of questions, just email me at lisa@accelerate2advisor.com and I'll be happy to walk you through the different options to see which one will be the very best for you. I can't wait to see you succeed and am honored to be the one to help you.
FREE MASTERCLASS
Get Out of Overwhelm
To reserve your seat for the next masterclass series with Lisa Campbell, click the save your seat button. We'll send you information and updates via email. This is a FREE learning opportunity that you won't want to pass up.